Meetings and Minutes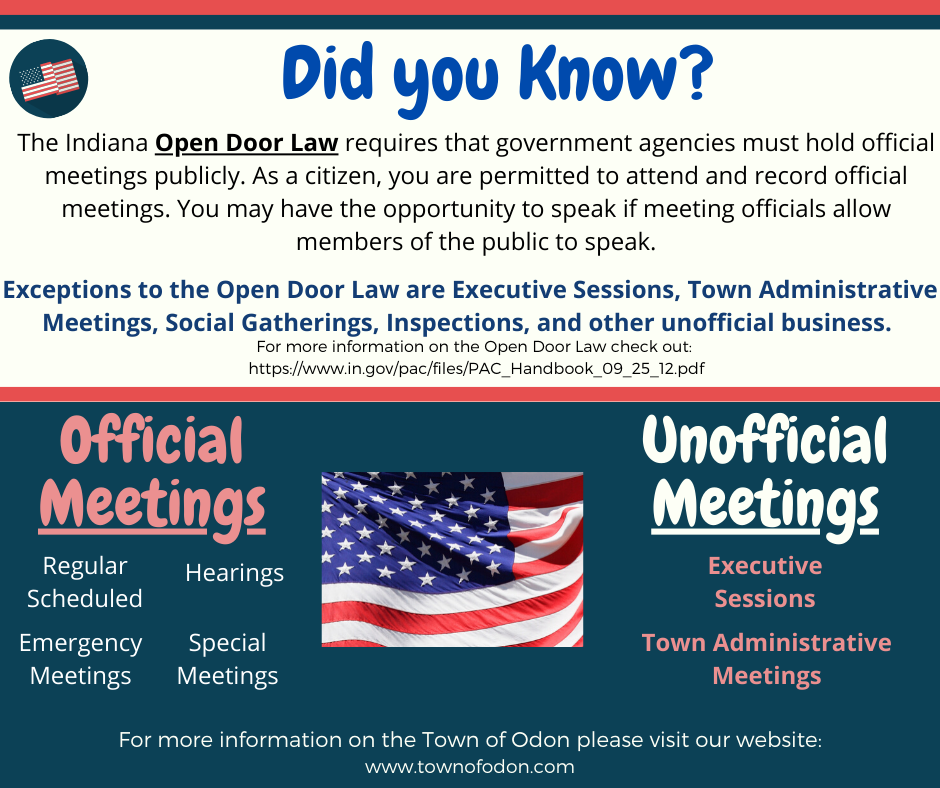 As the legislative branch of the Town of Odon government, the Town Council holds open public meetings where local laws, policies, and basic decisions for the town are discussed and decided. Town Council members are elected at large. Notice for all public meetings, along with agendas, are posted in advance of the meeting. Minutes are posted after meetings have concluded (when available).
---
The State of Indiana has two major public access statutes applicable to state and local public agencies:
The Indiana Open Door Law: The Open Door Law, also known as Indiana Code 5-14-1.5-1, states that government agencies must hold official meetings of a majority of their governing body, such as council or board meetings, publicly. As a citizen, you have the right to attend and record these meetings. While you can attend or record these events, you do not have the right to speak at them. You may have the opportunity to speak if meeting officials allow members of the public to speak. Public meetings must be in rooms and buildings that people with disabilities can access.
The Access to Public Records Ac (APRA): Indiana Code 5-14-3, provides that a person has the right to access information regarding the government and the official acts of public officials and employees. The statute also states that government officials have a responsibility to provide that information to you.
---
There are several types of council meetings:
Regularly Scheduled Meetings
Special Meetings
Emergency Meetings
Hearings
Town Administrative Meetings
Executive sessions
---
Under the Open Door Law, some meetings are closed to the public. Meetings closed to the public are called executive sessions or Town Adminstrative Meetings. Executive sessions or Town Administrative Meetings generally fall into one of these categories:
Discussion of collective bargaining, litigation, or security system strategies
Session to receive information about and interview prospective employees
Discussion of records classified as confidential by state or federal law
Discussion of job performance or discipline of individual employees
When an agency holds an executive session, any vote on a motion, proposal, resolution, or ordinance must take place in a public meeting. The state does not allow secret ballots.
---
The ODL lists seven types of gatherings not considered "meetings." A meeting does not include the following:
Any social or chance gathering

Any on-site inspection of a project or

program

Traveling to and attending meetings of

organizations devoted to the betterment of

government

A caucus

A gathering to discuss an industrial or a

commercial prospect that does not include a

conclusion as to recommendations, policy,

decisions, or final action on the terms of a

request or an offer of public financial

resources;

An orientation of members of the governing

body on their role and responsibilities as

public officials, but not for any other official

action

A gathering for the sole purpose of

administering an oath of office to an

individual.
For more information on the Open Door policy please view: https://www.in.gov/pac/files/PAC_Handbook_09_25_12.pdf
Relevant Documents